You are here: AutoControls Home > Archives > Videotapes



Videotapes

[an error occurred while processing this directive]



Note: These videos are no longer produced, but many are in circulation
NOTE: List of Control Unit Purchasers -- this has been moved to the Ta Autocontrols page.
Item 2 -- Basic Videotapes 1 & 2

The 2 basic how-they-work tapes

Figure 3a

The Item 2 videotape set, Video Textbook for G Scale Automatic Display Ideas (V9202) exhaustively demonstrates several ways to automatically control multiple G scale trains on the same track using very simple non-electronic controls.

* Tape 1 -- Introduction & Automatic Block Part 1:

Demonstrates the automatic switching block -- this unit combines circuitry of the automatic block and automatic passing siding. (The tape shows the original Model 163 Automatic Switching Block, but the current Model 165 design operates essentially the same -- the difference between the two units is the layout of the parts.)
The tape demonstrates the operation of the automatic switching block for about 10 minutes on a display layout, which will give most viewers a good understanding of how it works. (Tape 5 -- part of Item 3 -- provides a more in-depth discussion showing how each track contract activates the corresponding motor, how the rheostats work, and so on.)
Also shots of automatic blocks, automatic passing sidings, and automatic route selection.
Suggestions on getting started with these automatic control components if you are not familiar with them.

* Tape 2 -- Automatic Block Part 2

Demonstrates how to check out and install an automatic block in a layout.
Demonstrates how to utilize the automatic block to operate at least two engines on any loop, even engines with large speed differences.

Please be advised -- this is an amateur videotape -- not a professional production. Some parts you may find boring and repetitious. However, to my knowledge, this is the first and only how-to-do-it video on simplified automatic train control. You will see train control demonstrations that are just not available anywhere else.
2. Advanced Videotapes 3, 4, 5, & 6
Item 3 -- Additional Videotapes 3, 4, 5, and 6
4 additional, more-in-depth videotapes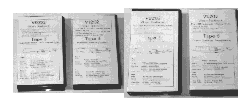 Figure 3b
Item 3 consists of four additional videotapes in the series titled Video Textbook for G Scale Automatic Display Ideas (V9202):

* Tape 3 -- Automatic Block -- APS Electric Eye

Demonstrates an electric eye block using time-delay to control train separation -- an alternate design to the LGB magnetic style.
Demonstrates how to use your hands to simulate the operation of an automatic block on an existing layout, without actually having a block.

* Tape 4 -- Automatic Switching System: Automatic Passing Siding and Automatic Route Selection

Demonstrates an automatic switching system configured for automatic route selection, where 1, 2, or 4 trains continuously change between 2 loops.

* Tape 5 -- Automatic Switching Block

(more details than Tape 1). Demonstrates operating the unit as an automatic block, automatic passing siding, automatic switching block, and depowered as a straight track.

* Tape 6 -- Conclusion

Tom Flynn's 5-track automatic yard, Peter Kenneman Custom Buildings, Byron Fenton Snowplowing, plus raw footage of one of Ed Zellner 's 12-train Megadisplays.
The following list identifies people who have at least 1 videotape in the series Video Textbook for G Scale Automatic Display Ideas (V9202). For example, "#1,2, 1996" at the end of the line indicates that person has Tapes 1 & 2, purchased 1996 .

Names were collected from 1992 through FEBRUARY 97, so some phone numbers will be out of date. If you know someone on this list, you may be able to borrow the tapes.

This list is sorted by state, city, then last name.
, APO AE, Lawrence J. Kastriba, , , #1,2, 1993
, FPO AP, Herman R. Moeller, , , #1,2, 1994
AL, Hazel Green, Loran R. McKinley Jr., h ___-828-0442, ??205-837-0101, #1,2, 1993
AL, Huntsville, David G. Gill, h ___ ?? 535-0838, , #1,2, 1994
AZ, Bullhead City, Charles V. Smith, , , #1,2, 1993
AZ, Chino Valley, Joseph Thibodeau, , , #1,2, 1993
AZ, Scottsdale, Bob Field, h ___-860-2812, , #1,2, 1993
AZ, Tucson, Lynne Newman, h 602-886-9935, , #1,2, 1996
AZ, Tuscon, Orton S. Barnes, h 602-742-5888, w 602-885-1040, #1,2, 1993
CA, Anaheim, John H. Bengston, h 714-827-5269, , #1,2, 1996
CA, Anaheim, Dale E. Borst, h 714-956-7617, , #1,2, 1993
CA, Beverly Hills, Bill Schrewsberry, h 818-831-1154, w 818-781-7576, #1,2, 1994
CA, Blue Lake, Richard S. Platz, , w 707-668-5697, #1,2, 1993
CA, Buena Park, Richard S. Swift, h 714-739-5940, , #1,2, 1993
CA, Camarillo, Steve Cole, h 805-482-2413, , #1,2, 1993
CA, Camarillo, Norman F. Gruber, h 805-482-8071, , #1, 1993
CA, Carmel Valley, Jack Davis, h 408-659-0821, , #1,2,3,4,5,6, 1992
CA, Clovis, Don Townley, h ____-298-0113, , #1,2, 1993
CA, Costa Mesa, Dr. Charles M. Bozza, , , #1,2, 1993
CA, Cupertino, Ms. Barbara A. Jones, h 408-257-9385, , #1,2,3, 1993
CA, Cupertino, Howard E. Wolnowsky, , , #1,2, 1993
CA, Duncans Mills, Russell Gaughen, h 707-865-1593, , #1,2,3, 1993
CA, Escondido, Tom Allison, h 619-739-0034, , #1,2,3,4,5,6, 1996
CA, Fair Oaks, G.H. Crowther, h ???-961-7096, , #1,2, 1993
CA, Fair Oaks, Sewell L. Keeter, h 916-966-4036, , #1,2, 1993
CA, Glendale, Tom Bistagne, h 818-242-6876, , #1,2, 1994
CA, Hayward, Mr.Myron A. Lewis, , , #1,2,3,4,5,6, 1992
CA, Hemet, John D. Robinson, h 714-925-5670, , #1, 1992
CA, Indio, Harry J. Devoto, sumr 510-277-0634, wntr 619-347-8532, #1,2, 1994
CA, La Habra, Gordon Jones, h 310-697-1172, , #1,2, 1993
CA, Laguna Hills, Howard Duhan, h 714-770-5629, , #1,2,3,4,5,6, 1993
CA, Lawndale, Kenneth M. Fine, h 213-214-0531, , #1,2, 1993
CA, Lompoc, Robert E. Lee, h ___-736-2967, , #1,2, 1993
CA, Los Angeles, Tom H. Pinkerton, , , #1,2, 1993
CA, Los Angeles, Donald W. Weaver, , , #1,2,3,4,5,6, 1995
CA, Los Angeles, Michale Yendrejczyk, h 213-256-8347, , #1,2,3,4,5,6, 1994
CA, Murrieta, Dr. Abba Schoenholtz, h unlisted, , #1,2, 1994
CA, Nipomo, Dan Angell, h 805-929-6458, , #1,2, 1994
CA, Palo Alto, Jeff McMeekin, h 415-941-3741, , #1,2, 1993
CA, Paramount, Charles Kirchner, , w 310-531-1991, #1,2, 1993
CA, Pasadina, Robert Banning, h 818-796-1390, , #1,2, 1995
CA, Pleasanton, Carmen M. Della Vecchia, h 510-426-8186, , #1,2, 1993
CA, Poway, Michael Pykelny, h 619-748-6235 ?, , #5, 1994
CA, San Diego, John Hammond, h ___-560-9549, , #1,2, 1993
CA, San Jose, Jim Hammers, h 408-293-6402, , #1,2, 1993
CA, San Jose, John Herschkorn, h ___-997-0434, , #1,2, 1993
CA, San Jose, Donald W. Parker, h 408-268-9512, , #1,2, 1993
CA, San Jose, Thierry P. Stanich, h 408-267-7703, , #1,2, 1993
CA, Santa Clara, George Delucchi, h? 408-983-0503, , #1,2, 1993
CA, Saratoga, Jim Parker, h 408-253-7624, , #1,2, 1993
CA, Studio City, David Lee, , , #1,2, 1994
CA, Temple City, Bob Toohey, h 818/286-8476, w 818/302-7262, #1,2, 1994
CA, Turlock, Frank Knight, , , #1,2, 1993
CA, Ventura, James Peterson, , , #1,2, 1994
CA, Waterford, Ed Cathcart, , w 209-571-2026, #1,2, 1993
CA, Whittier, Mr.Charles W. Woodington, , , #1, 1992
CA, Windsor, Norman A. Stuart, h 707-838-6160, w 707-837-2190, #1,2, 1994
CA, Wrightwood, Dale Mahan, h 619-249-6188, , #1,2, 1994
Canada, Burnaby, BC, Carl Vanderspek, h 604/439-4620, w 206-859-0900, #1,2, 1994
Canada, Campbell River, B.C., Mr.E.D. Bozman, , , #1,
CO, Aurora, Linda Zellner, h 303-680-9389, , #1,2, 1992
CO, Colorado Springs, John D. Parks, h 719-634-6007, , #1,2, 1993
CO, Durango, John J. Freiberger, h 303-259-6274, , #1,2, 1994
CO, Montrose, Philip W. Morton, , , #1,2, 1993
CO, Parker, Bob Drean, h 303-841-8908, w 303-344-6738, #1,2, 1993
CO, Peyton, George Hall, h 719-683-3121, , #1,2, 1994
CT, Danbury, Tom Morris, h 203-744-5675, , #1,2, 1993
DE, Ocean View, Mr.Charles M. Kauffman, h 302-539-9092, w 302-539-5858, #1,2,3,4,5,6, 1992
FL, Boca Raton, Michael A. Pomponio, w 407-367-1239, w 800-542-7726, #1,2,3,4,5,6, 1992
FL, Clearwater, James M. Barber, , , #1,2, 1994
FL, Delray Beach, Bert Paquin, h 561-2722545, , #1,2, 1996
FL, Delray Beach, Randolph H. Petren, , , #1,2, 1993
FL, Fort Myers, Brooke Moore, 941-466-4574, , #1,2, 1997
FL, Fruitland Park, Don Nicholson, h 904-365-1726, , #1,2, 1993
FL, Ft. Lauderdale, George M. Von Essen, h 305-566-8309, , #1,2, 1993
FL, Jacksonville, Harry A. Pierce, h 904-733-0226, , #1,2,3,4,5,6, 1993
FL, Jupiter, Salvatore Bologna, , , #1,2, 1994
FL, Kissimmee, Paul Vevier, h 407-932-0124, , #1,2,3,4,5,6, 1996
FL, Kissimmee, Keith Wolfke, h 407-397-0423 ?, , #1,2, 1994
FL, Melbourne Village, Wyman R. Green, , , #1,2, 1993
FL, Miami, Jack Eads Jr., h 305-856-EADS, , #1,2, 1993
FL, Miami, Bill Ryan, , w 305-599-8545, #1,2, 1993
FL, Miami , David Slachter, h 305-557-8719, , #1,2, 1994
FL, Miami Beach, Ike Behar, , , #1,2, 1993
FL, Ocala, Willard Foster, , , #1,2, 1995
FL, Pt. Charlotte, Ms. Elizabeth Neid, , , #1,2, 1993
FL, Sarasota, Clay Prowls, , , #1,2, 1993
FL, St Augustine, Mr.Joseph S. Wilson, , , #1, 1992
FL, Stuart, Mr. Daum, , w 407-692-2416, #1,2, 1993
FL, Tampa, Lionel Lowry, , , #1,2, 1993
FL, Vero Beach, Robert K. Cavan, h 407-567-5930, , #1,2, 1993
GA, Atlanta, Anthony Adams, h 404-629-0743, , #1,2,3,4,5,6, 1996
GA, Atlanta, Charles Sharpton 3rd, h ____-634-6844, w 404-320-7474, #1,2, 1993
GA, Fayetteville, Glenn M. Brewer, h 404-461-2528, , #1,2, 1994
GA, Lawrenceville, Emmett C. Bennett Jr., , , #1,2, 1993
GA, Tucker, Dr. Donald H. Bohne, , w _____-939-6600, #1,2, 1994
GA, Warner Robins, Jack Harless, h 912-923-5395, , #1,2, 1995
IA, DavenPort, Steven H. Jacobs, , w 319-326-4491, #1,2, 1993
IA, Des Moines, Bob Lewis, , w __-243-5437, #1,2, 1993
ID, Montpelier, Duncan L. King, , , #1,2, 1993
IL, Brookfield, William L. Halupka, , , #1,2, 1993
IL, Chicago, Scott Montgomery, , , #1,2, 1993
IL, Chicago, John E. Sokolow Jr., , , #1,2, 1993
IL, Downers Grove, Raymond E. Klouda, h 708-971-3513, w 708-960-5900, #1,2, 1994
IL, Hanover Park, Allen T. Zagel, h 708-837-7969, , #1,2, 1994
IL, Naperville, Walter J. Szafranski, , , #3,4,5,6, 1994
IL, Palos Heights, Joseph C. Larem, , , #1,2, 1994
IL, Schaumburg, Eugene Domon, , , #1,
IL, South Holland, Michael Mercier, , , #1,2, 1993
IL, Sullivan, Harold D. Hamilton, h ___-728-8915, , #1,2, 1993
IN, Indianapolis, Richard O. Watson, , , #1,2, 1994
IN, Kokomo, Donald R. Adams, h ___-455-0037, , #1,2, 1994
IN, Kokomo, Gary L. Snyder, , , #1,2, 1993
IN, Lafayette, Gary Rantz, h 317-448-4139, , #1,2,3,4,5,6, 1995
IN, New Castle, Charles A. Sadler, , w 219-529-0917 ?, #5, 1995
KY, Louisville, Louis P. Schmitz, , , #1,2, 1993
LA, Gretna, Frank E. Evans, h 504-392-7454, w 504-394-5593, #1,2,5, 1995
LA, New Orleans, Daniel Gyer, , w 504-362-4777, #1,2, 1993
LA, New Orleans, James C. LeBeau, h ___-486-9536, , #1,2, 1993
MA, Boston, George Sloan, , w 617-269-1400, #1, 1993
MA, Hull, Andy Staub, , , #1,2, 1993
MA, Millbury, Daniel M. Barnard, h ? 508-752-2086, w? 508-793-4727, #1,2, 1994
MA, Salisbury, Mike Gauthier, , , #1,2, 1993
MA, Sandwich, Robert H. Kreisinger, h 508-888-5531, , #1,2, 1993
MA, Sherborn, Paul S. Evans, , , #1,2, 1993
MD, Arnold, Larry W. Rinker, h 410-544-4155, , #1,2, 1993
MD, Pasadena, Harvey Lawson, , , #1,2, 1993
MD, Reisterstown, Douglas Johnson, h 410-833-9439, w800-422-1997x352, #1,2, 1994
ME, Sanford, Roger J. Soucy, h ___-324-2484, , #1,2, 1993
ME, Yarmouth, Lloyd Momborquette, h 207-846-3066, , #1,2, 1997
MI, Clarksville, Don Miller, h 616-642-6571, , #1,2, 1994
MI, Detroit, Roland L. Schamberger, , , #1,2, 1994
MI, Flushing, Marvin D. DeWitt, , , #1,2,3,4,5,6, 1993
MI, Grand Rapids, Charles Sigars, , , #1,2,3,4,5,6, 1993
MI, Kalamazoo, Rod Pittman, , , #1,2, 1993
MI, Metamora, Dr. Thomas Bonino, , , #1,2,3,4,5,6, 1993
MI, Prudenville, Jerre R. Moore, , , #1,2, 1993
MI, Rochester Hills, Lawrence L. Wonsch, h 313-656-3913, w 313-773-6800, #1,2, 1993
MI, Troy, Greg Marciniak, h 313-855-8990, , #1,2, 1994
Mn, Excelsior, Dr. Frank Worms, h 612-474-6900, , #1,2, 1995
MO, St. Louis, John Brophy, , w 314-432-3816, #1,2, 1994
MO, Westplains, Brent Davis, h 417-257-0561, , #1,2, 1996
MS, Brandon, Dr. Harold A. Dunsford, ? ___-992-4352, , #1,2, 1993
MS, Grenada, Curt La Fontaine, w? 800-221-8408, ? w 601-226-5551, #1,2, 1993
MT, Bigfork, Jan Amkreutz, h 406-257-1946, w 406-837-4920, #1,2, 1993
MT, Stevensville, Ronald McCann, , , #1,2, 1993
NC, Charlotte, Don Yelverton, , w 704-523-7834, #1,2, 1993
NC, Greensboro, Daniel D. Wistehuff, , w 910-299-2227, #1,2, 1995
NC, Washington, B.E. Singleton, h ?? ___-946-4476, , #1,2, 1993
NE, Lincoln, Don Pegler, , w 402/423-1031, #1,2,5, 1996
NH, East Hampstead, David H. Broadhead, h 603-382-5687, , #1,2, 1993
NJ, Brick, George Dostal, , , #1,2, 1994
NJ, Chatham, Edward W. Rowan Jr., h 908-752-3636, , #1,2, 1993
NJ, Cherry Hill, Dr. Chester M. Zmijewski, , , #1,2, 1993
NJ, Englishtown, Dennis Domingo, , , #1,2, 1993
NJ, Jackson, Walter Rehak, h 903-363-5987, , #1,2, 1994
NJ, Port Murray, R.H. Handwerk, , , #1,4, 1996
NJ, Ramsey, John Mason, h 201-327-0738, w none, #1, 1993
NJ, Toms River, John Ratkowski, h 908-270-9294, , #1,2,3,4,5,6, 1993
NM, Albuquerque, Robert J. Reed, _____-268-7484, , #1,2, 1993
NV, Pahrump, Irwin J. Kilseimer, h 707-727-1785, , #1,2, 1994
NY, Ancram, Daniel A. Bruchez, , , #1,2, 1994
NY, Brooklyn, Mike Sileo, , , #1,2, 1993
NY, Buffalo, John N. Kane, h 716-827-8031, , #1,2,3,4,5,6, 1995
NY, Deer Park, Edward T. Fennell, h 516-667-1718, , #1,2, 1993
NY, Fort Salonga, LI, Peter C. Richard, , , #1,2, 1994
NY, Glen Head, Henry U. Harris Jr., , , #1,2, 1993
NY, Honeoye Falls, Mrs. William J. Merzke, , , #1,2, 1993
NY, Massapequa, Robert W. Krauss, , , #1,2, 1993
NY, Middle Village, Reinhard Rosenhammer, , , #1,2, 1993
NY, Mineola, Larry Guadagno, h 516-741-9359, , #1,2,3,4,5,6, 1994
NY, Monsey, Chris Beuschel, h 914-357-5179, w 203-351-9000, #1, 1992
NY, Neponsit, Matthew Guy, , , #1,2, 1994
NY, New York, Z. A. Frangopoulos, , , #1,2, 1994
NY, New York, Clement Pistacchio, h 212-683-9292, , #1,2,5, 1995
NY, Oneonta, Gary Brackett, , ? w 607-432-4139, #1,2, 1993
NY, W. Hempstead, Peter J. Harrison, , , #1,2, 1993
NY, Webster, John F. Nuccitelli, , , #1,2, 1993
NY, Webster, Norb Reynders, h 716-872-0008, , #1,2,3,4,5,6, 1993
NY, West Islip, Peter Lepore, h 516-587-9059, , #1,2, 1993
OH, Brook Park, Gary Parsons, , , #1,2, 1994
OH, Canton, John H. Emmons, , , #1,2, 1993
OH, Centerville, Decker Doggett, h 513-439-9020, , #1,2, 1992
OH, Centerville, Bernard J. Young, h _____-433-8206, , #1,2, 1993
OH, Cincinnati, Billy J. Hall, , , #1,2, 1994
OH, Coshocton, Mr.Edward N. Peters, h 518-449-8387, , #1,2,3,4,5,6, 1992
OH, Dayton, Bertrand E. Young Sr., h _____-263-2925, , #1,2, 1993
OH, Marysville, Fred Bischoff, h 513-246-5705, , #1,2, 1993
OH, Oregon, Kenneth Romstadt, h ___-693-9145, , #1,2, 1995
OH, Rock Creek, David Schweitzer, h unknown, , #1,2, 1993
OH, Uniontown, David L. Hawk, h _____-896-9340, , #1,2, 1993
OH, Willoughby Hills, Ernest F. Battelley, , , #1,2, 1993
OR, Beaverton, Harry Johnson, h unknown, , #1,2, 1993
OR, Tigard, Mr. Rookie & Rails, , , #1,2, 1993
OR, Warren, Noel Thompson, h 503-397-2679, , #1,2, 1993
PA, Allentown, James Wolbach, , , #1,2, 1993
PA, Buena Vista, Darian Handley, , , #1,2, 1993
PA, Darby, Joseph J. Olsen, , , #1,2, 1993
PA, East Stroudsburg, Joseph J. Pandolfo, , , #1,2, 1993
PA, Elverson, Robert H. Benedix, unknown, , #1,2, 1993
PA, Lancaster, Harry J. Welsh Jr., , , #1,2, 1993
PA, New Enterprise, Dale Suiters, h 814-766-2594, w -----, #1,2, 1994
PA, Philadelphia, Michael Modzelewski, h 215-533-1062, , #1,2, 1996
PA, Pittsburgh, Dale M. Diethorn, , , #1,2, 1993
PA, Pittsburgh, William L. Yankovich, h 412-241-1458, w 412-355-2872, #1,2, 1993
PA, Reading, Jeff Runge, h 215-779-0654, , #1,2, 1994
PA, State College, George W. Schimmel, h 814-238-3210, , #1,2, 1993
PA, Wilkes Barre, Ted Armillay, , , #1,2, 1993
PA, York, Gary A. Klingaman, , w ___-843-1824, #1,2, 1993
SC, Charleston, Franklin West, , , #1,2, 1994
SC, Columbia, Ray F. Long, , ?club 803-782-1087, #1,2, 1994
TN, Bartlett, John Stefanac, h 901-388-9338, , #1,2, 1994
TN, Knoxville, Don Newman, , w 615-673-0087, #1,2, 1994
TN, Lakeland, Dr. Jere M. Disney, h 901-386-8558, w ? 682-5642, #1,2,3,4,5,6, 1994
TX, Arlington, Peter Dahlberg, h 817-478-4776, , #1,2, 1993
TX, Carrollton, Michael Matous, h 214-242-4168, , #1,2,3,4,5,6, 1992
TX, Corpus Christi, Jim Dolson, h ___-993-9418, , #1,2, 1995
TX, Dallas, Frank Corcoran, , , #1,2, 1993
TX, Dallas, Bill Holleman, , , #1,2, 1994
TX, Houston, Robert K. Bader, h 713-782-3038, w 713-781-9798, #1,2, 1994
TX, Houston, Caleb L. Roberts Jr., , , #1,2, 1993
TX, Plano, Dale Hackbart, , , #1,2, 1993
UT, Salt Lake City, Stuart L. Loosli, , , #1,2, 1993
VA, Chesapeake, Stephen J. Galovics Jr., h 804-482-2443, , #1,2,3,4,5,6, 1994
VA, Herndon, Ned Gressle, h 703-860-9159, , #1,2, 1994
VA, Richmond, George F. Hoover, , , #1,2, 1994
VA, Williamsburg, Bruce R. Rismiller, h 804-258-3721, , #1,2,3,4,5,6, 1994
WA, Puyallup, Raymond E. Gilroy, h ___-840-2404, , #1,2, 1993
WA, Sequim, Mr.Tom Neil Leslie, h 206/?683-1351?, , #1,2,3,4,5,6, 1992
WA, Tacoma, Juan D. Daviess, h 206-582-2549, , #1,2,4, 1996
WI, Eau Claire, Carl F. Searing, h ___-834-1303, , #1,2, 1993
WI, Grantsburg, Ralph R. Randt, , , #1,2, 1993
WI, Plattville, William Schilling, , , #1,2, 1994
WI, Waupaca, David R. Johnson, , ? w 715-258-8741, #1,2, 1993
---
This page created 8/03, modified 5/2/2006 (16b08) by

JamesRobertIngram.com , Williamsport Pa, Voice Mail 570-322-7597