<--Back to AutoControls.org Entry Page
www.track2.com/ta

This Ta Autocontrols site consists of these 2 pages:
Page 1 (this page) -- Ordering Information & Specifications
Page 1 - Ordering Information And Specifications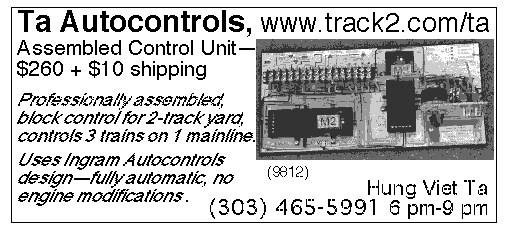 Figure 1 - Ad For December 1998 Garden Railways
1.1 - Summary
Mr. Hung Viet Ta is making available the assembled, Model 165 Control Unit. This assembly uses the Ingram Autocontrols design that has been available since 1995.


This control unit controls the popular two-track automatic switching block. You can find more detail about this unit at the Ingram Autocontrols website
"Model 205 (aka Model 165) 2-Track Switching Block" (use your browser's Back button to return here).
1.2 - Ordering Instructions
PRICE: The price is $260 + $10 shipping. Mr. Ta includes black and white copies of the key hookup drawings.


TO ORDER: Send a check in the amount of $270 (this includes the $10 shipping) to Mr. Ta at the following address:

Hung Viet Ta
10231 Eaton St
Westminster CO 80020
Home phone: (303) 465-5991 (6 pm to 9 pm, Mountain time)
Daytime work phone: (303) 497-1065
1.3 - Hung Viet Ta's Experience
Mr. Ta is a professional electronics technician.
Starting in 1996, Mr. Ta has assembled control units with serial numbers 165-17 through -22, Helper Control units (for special 4-track yard) 165-23 & -24, and control units 165-25 through -29.
Page 2 - List of Control Unit Purchasers, shows a list of owners for these units. You can contact these owners if you want to verify the high quality of his work.
1. 4 - Control Unit Specifications

more photos here



Dimensions 6" x 13" x 3-1/2" high.
Automatically controls 3 trains on the same track.
Has 2 on-off switches -- 1 for block function and 1 for switching functions.
Uses simple off-the-shelf electromechanical parts -- no complicated, fragile electronics.
Built on a color-coded laminated template that shows part locations and wiring paths. You can see the template in the above figure.
Rheostat R1 adjusts reduced speed in Slowdown and On/Off Sections.
Figure 2 - Specifications for the Model 165 Control Unit (Part #1651)
PARTS LIST: You can view the Parts List for the above Control Unit here (use your browser's Back button to return here).
---
This page modified 10/07a/2003 (fix links 8/31/09.) by
JamesRobertIngram.com , Williamsport Pa, Voice Mail 570-322-7597